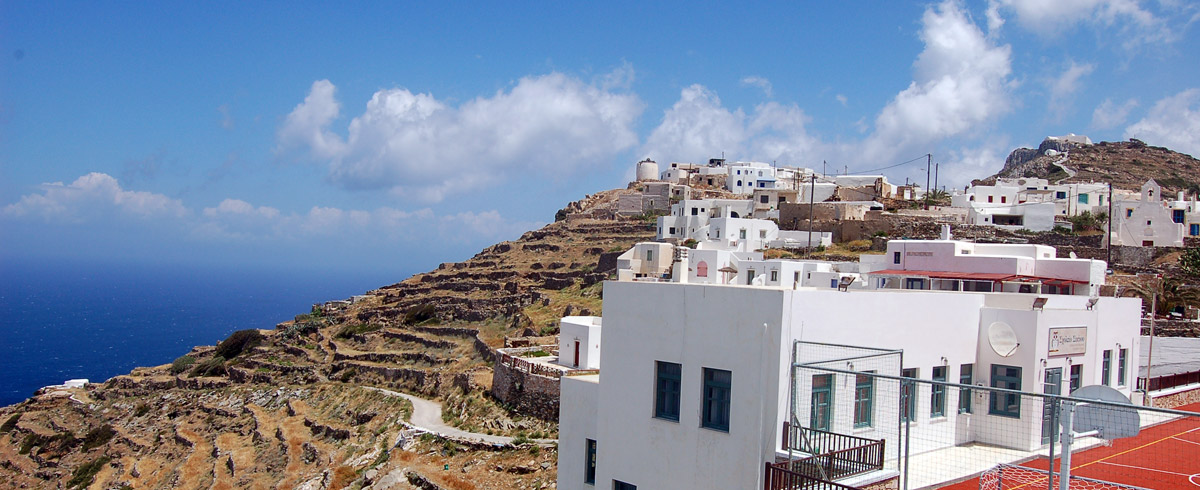 Sikinos in ancient times was known by the name Oinoi, because of the many vines it had. Its current name derives from Síkinos, son of King Thóantas from Lemnos island. King Thóantas had gone to Oinoe (Sikinos), where he got married and soon after his wife gave birth to Síkinos. The inhabitants of the island respected King Thíantas, and wanted to honor him, so they named their island after his son.
The first inhabitants of the island were the Mycenaeans, who settled there in the years between 1500 and 1200 BC. Then, the island was colonized by the Dorians and then by the Ionians (8th to 6th century BC).
In the Hellenic-Persian wars, Síkinos was on the side of the Hellenes and when the wars ended, in the 5th century BC, Sikinos entered the Delian alliance (478 BC) and the Athenian Hegemony (454 BC).
During the Roman and Byzantine years, Síkinos functioned as a place of exile. In 1207 AD, the island submitted to the Venetians and entered the Duchy of the Aegean. After a few years, in the middle of the 13th century AD, Byzantium liberates Sikinos from Venetian hands but in the 14th century, it falls into the hands of the Spaniards (Dakoronia) and remained under their rule for 1.5 centuries. The Ottomans conquered Sikinos in the 16th century.
Finally, Sikinos was liberated and raised the Greek flag in 1829.
Síkinos (Chóra): It's the capital of the island which is separated in two districts, Kástro (castle) and Chorió (village). Chorió is a labyrinth of alleys, old houses and beautiful gardens, a delight to walk it. Kástro is built at the edge of the cliff, 300m above sea level, and is part of the town's fortifications. Here you will find the square, the shops and the cafes of the island. Definitely visit the church of Pantánassa, built in 1787.

Episkopí: A Roman mausoleum built around the 2nd century AD. During the Byzantine years it was remodeled to a Christian temple. It is one of the most important monuments in the Cyclades, with archaeological, historic and architectural value. The fact that it stands alone, in the middle of nowhere, beaten year in year out by the harsh Aegean weathers, has nothing to do with its importance.
Agía Marína: An area with ruins of ancient settlements, like the Market and the temple of Apollo Pýthios.