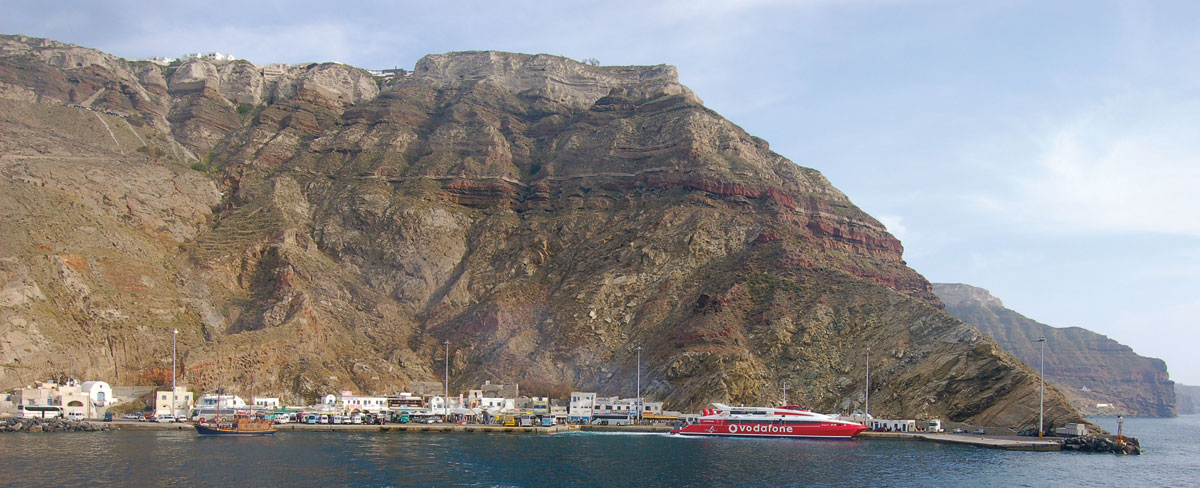 Santoríni in the ancient years was called Stroggýli (= round), because of its circular shape it had before the eruption of the volcano. The Phoenicians called the island Kallísti (= beautiful), probably due to its attractive landscapes, whereas in the 12th century BC it was named Thíra, in honour of the hero Thíra who came to the island with Spartan colonists. Much later, in the 12th century AD, the island took its final name Santoríni.
The island is connected with the myth of the lost Atlántis, the rich civilization which sunk under the sea. In actuality, around 1650 BC, the volcano in the middle of the island exploded with tremendous force. It is estimated that the tidal wave created from the explosion reached a height of 250m and a speed of 300 km / h. This eruption, together with the earthquakes and the tidal waves that followed, is thought to be the reason behind the destruction of the Minoan and the Egyptian civilisations.
Santoríni is inhabited since the Bronze Age (4th – 3rd millennium BC) and this first civilization is thought to have peaked around 1800 BC., according to many findings from the area of Akrotíri. Further to the eruption of the volcano and the great earthquake (17th century BC), the island was abandoned for about 300 years.
During the 14th century BC, Myceneans colonized the island and stayed up until 1000 BC. Next, Dorians came and built towns without walls (at the time, all cities had walls around for protection against attacks – except Spárti). In the 5th century BC, Santoríni came under the Persian rule, then became a member of the Athenian Hegemony and during the Peloponnesian War (431 – 404 BC), fought on the side of the Spartans.
In the Byzantine years, the island was part of the Aegean military prefecture (Théma). In the 12th century AD, it was conquered by Franks who named the island «Santa Irene», a name which over the years turned to today's name of Santoríni. The Venetians came to the island for 1,5 centuries, and built castles and churches. In 1579, the Ottomans conquered Santoríni.
The island raised the Hellenic flag after the Wars of Independence in 1832.
Akrotíri: The centre of a great civilization that reached its peak in the years before the great eruption of the volcano. Its museum has many findings from that time and is considered one of the most important in Greece.
Ancient Thíra: An ancient city and an archeological site, with settlements of ancient civilizations. Due to the natural fortress of the place, the Spartans first and the Ptolemies (Egyptians) later, built important settlements, findings of which we will see today in the archaeological museum.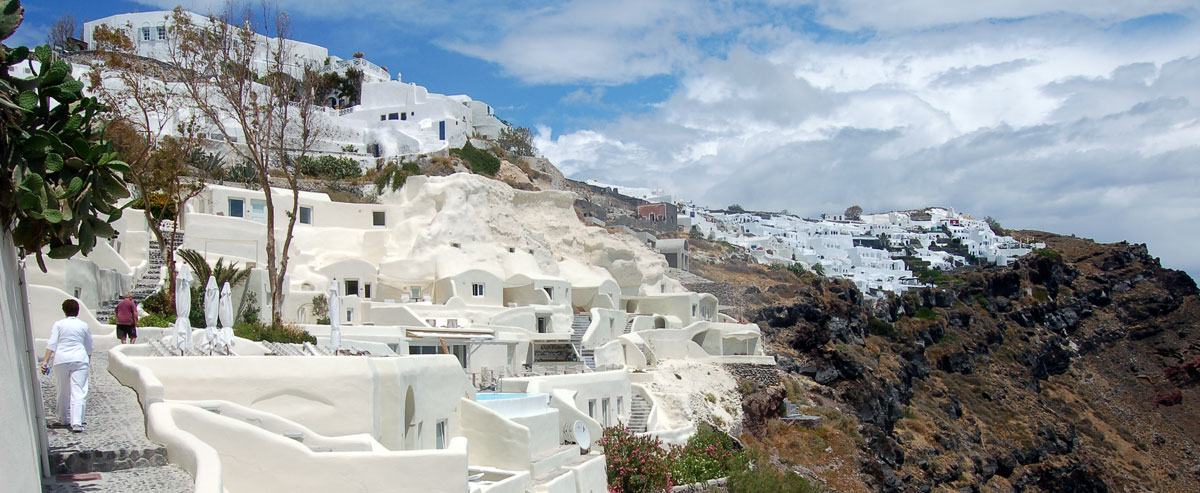 Oía: The village flourished at the end of the 19th century. It was the naval state of the island, with 130 ships. Visit the Venetian castle at the NW end of the island and the Naval Museum.