Historians are in disagreement where from the name of the two islands came from. Some believe it is a complex word (koufó + nisí, i.e. hollow + island), named by the many travelers of the past who named it by the many caves around the islands. Others claim the name derived from the locals in the past naming the islands "koufó" which can be rendered as unbelievable, masterpiece (i.e. very beautiful). Another version, is based on the marine notion of "Kofós limín" (i.e. sound harbour), meaning an island that is a safe shelter for ships. Last, at times historical records refer to the islands as "Phacousa" (Páno Koufonísi), probably due to its shape, and "Pínno" (Káto Koufonísi), thanks to the many pinna (pen shells) in the surrounding seas.
The first inhabitants of the islands were Cycladítes, from 3200 BC up to 1000 BC, according to findings in Agriliá position and in Loutrá settlement (chambered tombs). In this settlement were also found buildings that continue into the sea. Based on the archaeological findings in the nearby island of Kéros, in Kávos Daskaleió position, which revealed a unique worship centre in size and type, probably the first islandic worship area in the world, it is believed that the overall area had a significant civilization in the Hellenic periods.
During the Hellenic – Persian Wars, Koufonísia took the side of the Hellenes. In the Roman years, they served as a place of exile. In today's village of Páno Koufonísi, excavations revealed a significant presence by the Romans on the island. However, works cannot proceed as the village is built on top of the ancient ruins.
During the Byzantine years, the islands belonged to the military prefecture of Náxos. Later, in the 13th century, the Venetians occupy them and two centuries later, the Ottomans. All these years, the pirates used Koufonísia as a hideout and a base of operations.
The islands were freed in 1830 and joined the new Hellenic state. In the 2nd World War, Koufonísia were forced to support the Italian and German armies. As a result, they were impoverished and after the war the inhabitants migrated to the large city centres or abroad. The approximately 1000 people were depopulated to a few dozen.
In 1960, the last citizens of Kéros and Káto Koufonísi abandoned their islands and all settled in Páno Koufonísi. Lately, thanks to the touristic development, the population of the island has started to increase again (400 permanent inhabitants in 2011).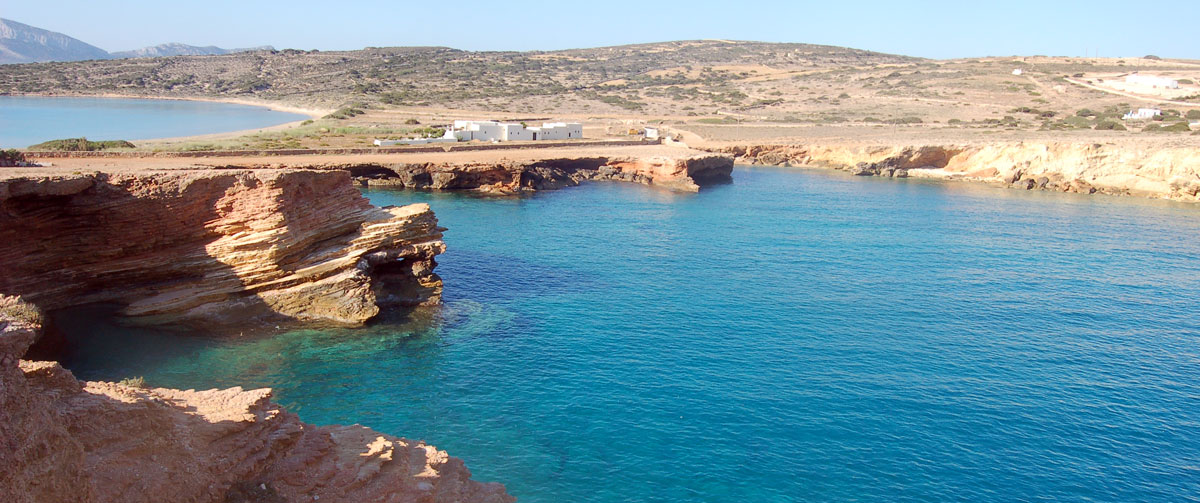 Beaches: Maybe the most important attraction in Koufonísia are their beaches. Thanks to the many corrals and sea shells in the sea surrounding them, the sand mixes with the broken shells and has a unique colour.
Devil's eye: It lies approximately 900m away from Porí beach, in Áno Koufonísi. One of the most famous attractions in Koufonísia
Xylobáti caves: Caves by the sea on the NE part of Páno Koufonísis island
Panagía church: A beautiful church, from 1562 AD, and the only one in Káto Koufonísi. In its celebration (15th August), there is a feast held on the island